Haven Homes Bathrooms Renovation in lekki
See a bit of the awesome master bathroom remodel by the Goldray interiors and team.
This beautiful Haven Homes bathroom renovation in Lekki was a project that didn't take too long for our amazing Goldray Interior Design Team to execute. This project upgrade & remodeling
We understand that a renovated bathroom adds value to your home, updates its style, and makes it better adapted to your needs.
This is the reason why we always advice that if you're spending money on bathroom remodeling, you should always consider having a bathroom with several functionalities, storage & comfortable space.
We used the low-flow tank model for Haven's bathroom renovation in Lekki.
Toilets with hidden tanks—in which the water storage vessel is mounted inside the wall—have several advantages.
They are worth the effort especially for bathrooms without much space. Their sleek look also fits right in with modern and contemporary bathroom styles.
However, we acknowledged that routine maintenance might be a hectic task because there is usually no easy access to the tank if the inner workings need attention.
These low-flow tank design also helps to conserve water every time you flush.
Immediately we began planning this bathroom renovation in Lekki, our number one priority was to add to the current lighting in order to improve the functionality and mood of the space.
We considered people who might like to take leisurely baths. For these set of people, there's not much fun in full artificial light.
The dimmer the light, the better the mood.
We arranged the fixtures around the mirrors to achieve the best possible lighting while the owners are making use of the mirrors. We also icluded lightings in the shower in order to achieve a more safer and pleasant experience.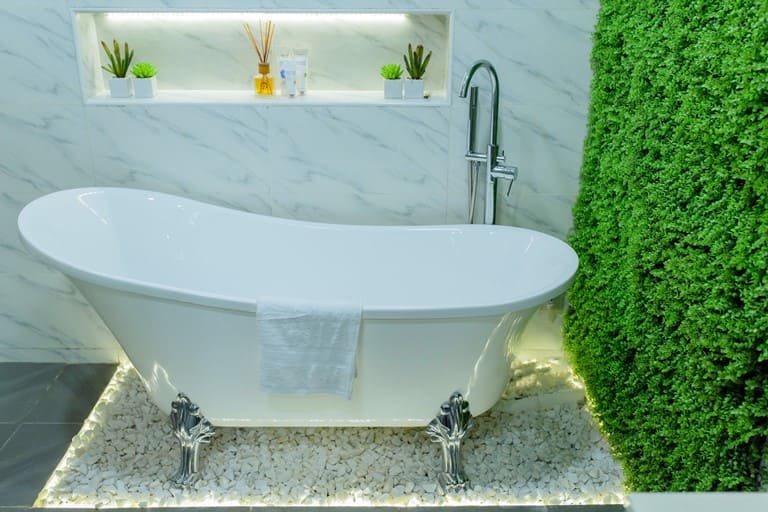 This moderate sized tub set this bathroom renovation in Lekki apart.
In most cases, a Tub is not always necessary. Most people from this side of the world hardly taketheir times laying in a bath. Alot of developers around here hardly include a bath in their plan. They'll even argue with you that a bathroom with a tub will attract lesser appeal to prospective buyers than one with a shower.
But we believe that as the world gets closer, all available options must be explored and we decided to execute this a tub or a tub/shower combination.
Therefore, we utilized a moderate sized tub that takes less floor space in the bathroom, freeing up room for more storage, countertop area, and many more features. This tub also requires less water and energy to fill. And they are less surface space to clean.
Book a consultancy session with us now.
Images From Haven Homes Bathrooms Renovation in Lekki.
Buy some of the most outstanding & trending decor items here.
Try our shop . No registration needed.
"Tasty food, set inside a lovely coffee house."
It was an real incredible experience for me. The quality of food was only matched by the quality of service I got. I wish I can keep the flavor in my mouth for ever. Thanks for making the evening an unforgettable one.